Cloudland Canyon State Park
Located on the western edge of Lookout Mountain, Cloudland Canyon State Park is one of the most scenic parks in Georgia, offering rugged geology and beautiful vistas. The park straddles a deep gorge cut into the mountain by Sitton's Gulch Creek, and elevation ranges from 800 to 1,980 feet.
The most spectacular view into the canyon is found near the picnic area parking lot; however, additional views can be found along the rim trail. Hardy visitors who hike to the bottom of the gorge (including a 600-step staircase) find two waterfalls cascading over layers of sandstone and shale into pools below. For visitor safety, wading in pools and climbing on waterfalls is not allowed.
Cottages are located near the canyon edge, while the park's walk-in campsites provide exceptional privacy for tents. Be sure to stop by the office gift shop for hiking sticks, camping supplies, snacks, toys, disc golf supplies, books and more. Outdoor lovers should not miss this park's spectacular scenery.
Park Hours: 7 a.m. to 10 p.m. Gates lock at 10 p.m. (No late access.)
Office Hours: 8 a.m. to 5 p.m.
Visit Website
Photo Gallery
Reservations 800-864-7275
Park 706-657-4050
FACILITIES:
3,485 Acres
72 Tent, Trailer, RV Campsites ($25-$28)
30 Walk-in Campsites ($15)
11 Backcountry Campsites ($9/person)
16 Cottages ($125-$145) -- #6 and #7 are dog friendly ($40 per dog, max 2)
5 Picnic Shelters ($40)
1 Group Shelter (seats 175, $130)
Pioneer Campground ($45)
Group Lodge (sleeps 40, $205)
Gift Shop
ACTIVITIES:
GeoCaching
Hiking - 4.8-mile West Rim Loop, 2-mile Waterfalls Trail, 2-mile Backcountry Loop, 6.5-mile Sitton's Gulch Trail and 5.6-mile Long Branch Trail
Picnicking
Tennis
Disc Golf ($2)
Fishing -- Catfish pond is closed until Labor Day Weekend.
read more
Cave Exploration
Dade County is at the center of one of the world's most exciting regions for caving. Spectacular caves in this area contribute to the reputation of the area where Tennessee, Alabama, and Georgia meet (known to the caving community as the "TAG" region)
Popular caves in northwest Georgia include Ellison's Cave, Pettijohn's Cave and Byers Cave. With a depth or vertical extent of 1,063 feet and a length of 64,030 feet (almost 12 miles), Ellison's Cave in Walker County is the 12th deepest and 52nd longest cave in the United States.
The two deepest cave drops in the continental United States occur in Ellison's Cave: "Fantastic," which drops 586 feet, and "Incredible," which drops 440 feet. Pettijohn's Cave, also in Walker County, has more than six miles of passages, and the Byers Cave system in Dade County has passages totaling five and a half miles.
read more
Lookout Mountain Flight Park
Lookout Mountain Flight Park is the largest and most popular full time hang gliding school and resort in the United States. Each year, the school teaches, certifies and solos five times as many pilots as any other school.
The flight park is located in Dade County at 7201 Scenic Hwy, Rising Fawn, GA, and includes a 110-acre mountain resort with camping and lodging conveniently located in its landing zone. Amenities include: cabins, clubhouse, bunkhouse,bathhouse, swimming pool, volleyball court, shaded
pavilions and more.
When the park is open, morning classes are offered (weather permitting) every day of the year (except Christmas Day), and evening classes by special arrangement. The pro shop and office are open from 9 a.m. to 6 p.m. (Eastern time) every day except Wednesday. The shop and office are also closed Tuesdays during our off-season (mid-October to mid-April).
If you are planning to visit and try this exciting sport, you should arrive at the pro shop on top of the mountain at 8 a.m. (Eastern time). Bring jeans or other long pants, sneakers or running shoes, and clothing appropriate for the season to wear during your lesson.  Bring a change of clothes for after the class. To prepare for your first flight, walking, jogging or climbing stairs for a couple of weeks before you come can help make your training lessons easier.
Lookout Mountain Flight Park is located on top of Lookout Mountain above Trenton, GA, 10 miles southwest of Chattanooga, TN, on Georgia Highway 189. If you plan on flying into this area, Lovell Field (Chattanooga) is the nearest airport.
For detailed directions, visit 
www.hanglide.com
 or call 800-688-5637.
Wilderness Outdoor Movie Theater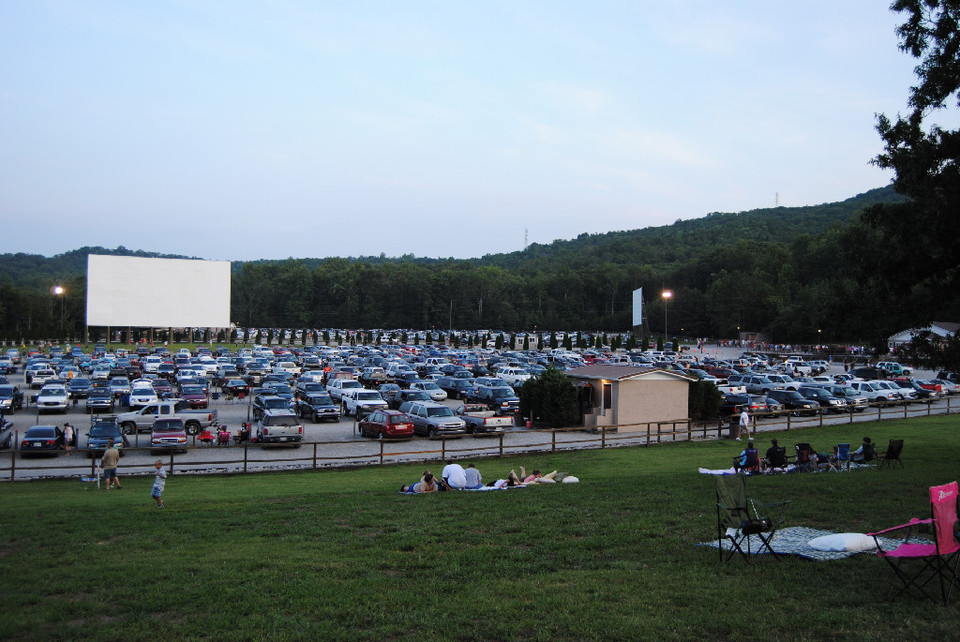 The world's largest outdoor movie theater
, with two 100' x 50' movie screens showing double features, is located on 45 acres nestled in the scenic mountains of northwest Georgia. With more than 1,000 parking places, you may choose to stay in your car or watch from the adjacent landscaped grassy hillside in lawn chairs or on a blanket.
A well-stocked concession stand serves the finest in movie theater popcorn, snacks and fast food at very reasonable prices, and first-class restrooms mean no waiting to get back to the show.,  A grassy area is also available to play catch with the kids before the movie starts.
Open weekends during the spring, summer and fall months, Wilderness Outdoor Movie Theater combines modern theater entertainment with the fun of a day at the park.
Gates open at 7:30 p.m. and movies begin at 9:45 p.m. Friday, Saturday and Sunday, April - October.  Check website for movie schedule and special events: 
www.wildernesstheater.com
Other Popular Activities
Hiking is very popular in and around Dade County. Cloudland Canyon State Park has some of the most scenic trails in the Southeast.

Both road biking and mountain biking are also popular here in Dade. A large portion of Lookout Mountain Parkway has recently been designated as part of the Chattahoochee Trace route of the Georgia Bicycle and Pedestrian Plan and the National Off Road Bicycling Association (NORBA) holds meetings atop scenic Lookout Mountain.

If camping and fishing are what you seek, look no further than Lookout Lake just off Hwy. 136 on Lookout Mountain.

Picturesque Lookout Creek can be paddled by canoe or kayak. Put in near Rising Fawn, GA and take out near highway 136 in Trenton.

You will find our local golf courses to be both scenic and challenging.